*plus shipping and handling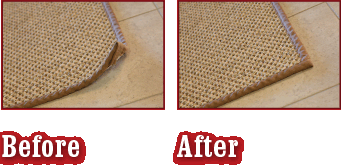 Works on all rugs. Keeps rug corners flat. Easy installation. Gentle on floors.
Reviews
I had a rug made last year at a flooring store from carpet. They advised I buy carpet padding to place under it to make the rug more comfortable for sitting/standing....As a result the corners curled like crazy. I placed heavy books on the corners for days but after an hour with no weight the curl was back. At my wits end...It took all of a minute to apply these to the rug and instantly the curl was gone! I've had them on the rug for almost 3 months now and they're holding strong. Don't hesitate to buy this!

- L. Farmer

I have tried everything and not until I purchased this Curl Stop product did I have any success! I highly recommend this product if you need to prevent the curling and to make certain that no one has an accident.

- KCP

Worth every penny! The corners of my rug lie perfectly flat - and it took less than 5 minutes to install. Highly recommend Curl Stop!

- M. E

I bought an 8 x 10 wool area rug that was curled on the corners and edges for two weeks. I tried everything but no luck in getting it to lay flat. It took me 5 minutes to apply this to the corners and now I have a rug that lays perfectly flat. Thank you!

- The Big Cheese
About Us
Curl Stop is the original, patent pending solution, to stop curled rug corners. After working with the rug and carpet industry for over 50+ years, inventors Charlie and Randy recognized a universal problem with rugs, their corners rarely lay flat. The two realized that no product exist on the market today specifically designed to solve the problem of rug curling. Sure there are products that keep rugs from slipping, but the corners would still curl causing trip hazards and possible damage to rugs. After years of experience within the industry, extensive research and product testing, we are proud to introduce the finest and only proven product that solves the problem of rug curling.
Curl Stop is a unique anti-rug curling system that keeps rug corners flat and holds to the rug and not your floors. Installation is quick and easy.
Installation
Buy Now
Our Unique Curl Stop System:
- keeps corners of rugs flat
- no sharp edges that could damage your rug
- specially designed adhesive holds tight to rug, not to floors
- 1/2 moon design allows air flow between curl stop and floor
- stays rigid
- easy installation